I have just a few words today. Thanksgiving was so, so good-- filled to overflowing with laughs, delicious food, dominoes tournaments, apple cider, and yes, football. It has always been one of my favorite days of the year, and with good reason too.... it marks the climax of autumn and holds promise of the sweet, chilly season to come. The Christmas season has somewhat begun- we settled the snowmen onto their perches this morning, the Christmas music is playing as I type [
CURRENTLY AMY GRANT: O COME ALL YE FAITHFUL
], and we finished off yesterday with mugs of hot chocolate and a movie.... Elf was the unanimous choice.
Family is still here, and the house is still busy and full-- but I like it best this way. I like looking around to see a room full of family, and I like laughing, eating, and being together. The dominoes tournaments will continue later today, we will make more hot cocoa and we'll enjoy the time together. It would be quite the understatement to say that I love this time of the year.
How have you spent the last couple days?
_____________________________________________________________________________________________________________________________
// linking up with Aspire's Your Story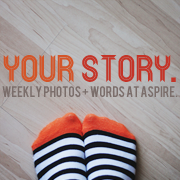 _____________________________________________________________________________________________________________________________
SHARE THIS POST