Meet and Greet Mondays
. Just wanted to let you know that Meet and Greet Mondays will not be happening today... long story short: Life happens. Busyness happens. Accidents involving deleting photos for a DIY project happen. So, next month will be the next installment in Meet and Greet Mondays.
Today
. Today I did a mini-photoshoot with K. She's always ready to smile... and I have many, many more pictures to share as proof!
Today we went to Barnes and Noble, and I spent my time poking through the store, flipping through magazines, people watching (does anyone else do this?!), and eventually picked out a book. Then it was off to Noodles and Co. I'd never been there before, but loved it!
Today was good.
Aspirations
. I've completed a few of the items on my Aspirations list! Check it out
here
. If you have an aspiration/bucket list too, please leave a comment with a link because I'd LOVE to read it!
Coming soon
... I have a sort of inspiration board on my wall that I adore... and want to share with you! Stay tuned for that hopefully sometime later this week.
New love.
One word
five words: Double fudge cookie dough blizzard at DQ. Oh yes.
Do you have a random piece of your day that you'd like to share with me? Do tell!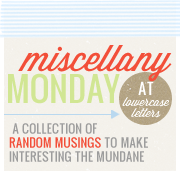 SHARE THIS POST