Okay, I just had to do it. I've never joined in on Awkward and Awesome Thursdays before, but since it's Thursday... and I
can
be an awkward person... well, I decided to join today. :)
Awkward

:
- Hitting yourself in the head with a hairdryer. Uhh... ouch.
- Earlier today, I was watching American Idol, and realized that I didn't remember which band Steven Tyler is from. I proceeded to ask my brother... and received a blank look, which could be translated as "You really should know that..." Now I feel better about myself since I know which band it is... but it was a rather awkward moment, you know? Anyone? Moving on.
- (and awesome...) Remember when I said we had family coming in for last weekend? Well, sweet K told my mom that when she grows up, she should become a chef. I love that girl.
Awesome:
- These shoes. I've worn them waaaay too much this winter...but they're so warm and go with almost anything. But they're pretty worn out, so I'm off to the mall for some new shoes this weekend. Not that I'm complaining. ;)
-
This shop
. I think I'm in love.
- I designed a new blog button the other day! I'm pretty happy with how it turned out. Feel free to grab it on my sidebar!
-Spring is coming. I could not be happier about that.
- This button (below)! So cute... and perfect for the job. Click on it to read more awkward and awesome moments from other bloggers!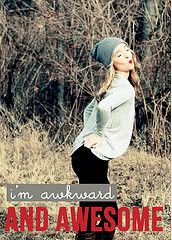 SHARE THIS POST