As I said yesterday... I headed out to take some photos of the snow... and, I did sled too. :) It was perfect snow for that.
Linking up to Pastor's Girl's Ponderings... I'm "on cloud nine" because I LOVE the snow. I'm so excited we got more!! :) Have a photo that puts you on cloud nine? Click on the button below and enter it. Check out all the other great entries too!
And this one to another challenge...
... and finally this one to This Life Is Sweet's challenge. It's absolutely NOT wintry but the challenge is "beauty" and I'm pretty sure this one fits the bill. It's one of my favorite shots right now. In case it looks familiar... it's up on my header. That would be why. :)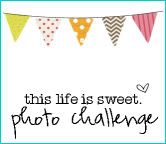 Halfway through the week! It's been a good one so far.
Ta ta for now...
SHARE THIS POST