As a result of more snow, and thus not being able to get to my hair trimmed today... I spent the afternoon making these vintage cameras out of natural wood, among other things. Including listening to Christmas music entirely too loud. There's this one song our radio station is playing this year...
Mele Kalikimaka. It means "Merry Christmas to You" in Hawiian. It kind of annoys me... but seriously, it's fun to say. Try it... I dare you. Ready? Ma-lay key-li-ki-ma-ka. See? Bonus points if you go say it to someone... better yet, call them and say it. Or say it to a complete stranger. Then hand them a candy cane. Moving on.
So, I sat at my desk, with my Ugg slippers on, humming that crazy song and relishing life. And LOVING the newest addition to my room shimmering away, right above me.
I attached icicle lights to my swirly mirror above my desk. I love it. It's kind of intoxicating... whenever I'm in my room these lights are ON! I love them. What do you think?
I was thinking as I glued the little wooden parts together to form unique camera-look-alikes... about when I made the first one. I loved how it looked, but it needed a little something extra- something to contrast that light wood. It needed something to balance it. So I picked up a Sharpie.
Love. That's the little something extra that we need. It's what keeps us balanced... the love of God, our friends, and our family. That's the little something extra my cameras needed, and what we all need.
Okay. Time for a bit of "advertising". Or maybe I should call it... friendly suggestions for cute things. :) I'm wearing my favorite top today... my 147 shirt. Click below for their site.
And also- a For Isabella bracelet. They've sold 1606 of their goal of 3000 bracelets... all money earned from the sales of these beautiful creations go to bring their little girl home. Click below to head over to help.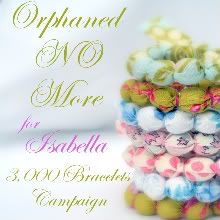 So now these little creations are sitting on my postcard box. They make me smile. And remember that the greatest of these is love.
♥
Now if you'll excuse me, I'm off to eat pizza with my family in front of a warm fire, and relax with my handmade flannel quilt and a book. Life is good, people. I hope that can be said for your life now too.
Mele Kalikimaka.....
SHARE THIS POST