My entry for the Words for Snow contest on Horsefeathers...
I took this shot with my friend A when she came over... I love how the snow has just fallen so lightly on the branch.
Good luck to all entering! The contest is unique... you can enter many forms of art. Good luck everyone!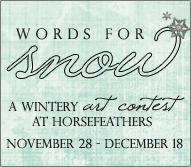 SHARE THIS POST